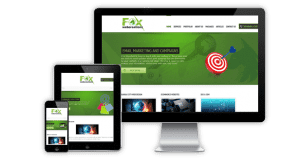 At Fox Web Creations, the goal of any Kansas City web design project we take on is to deliver a positive user experience, often abbreviated as 'UX'. When we talk about developing a positive experience for visitors, we focus on achieving an ideal balance of elements such as load time, content and responsive web design.
Web design should not be limited to developing websites that look pretty. User experience goes beyond aesthetics; it consists of analyzing how visitors arrive to a site, how they navigate the pages, how they react to certain content, and how they interact with page elements. Fox Web Creations takes UX design very seriously; to this effect, we pay close attention to how the future of web design in Kansas City is developing.
What we are seeing these days is a trend towards optimizing user experience. The idea is to look at the totality of interactions on a website to determine the satisfaction of visitors, which should begin even before they arrive. Web users these days have certain expectations; for example, if they have previously placed an online pizza delivery order from a desktop computer, they expect to be able to do so from a mobile device. This is what is known as responsive Web design, a technique whereby a website is developed in a way that is appealing and functional on a variety of Internet-connected devices.
In the past, Web developers placed too much attention on designing sites that looked great but failed to perform as well as they looked. Industrial design historians often point to the Pontiac Fiero, a car manufactured by General Motors in the mid-1980s, as an example of form not following function. The Pontiac Fiero was a great-looking automobile that evoked a feeling of Italian sports car engineering; however, its overall performance was very disappointing.
Modern web design is nothing like the Pontiac Fiero. The current focus is to make the website experience part of the product or service. Let's say an Italian restaurant in Kansas City decides to offer home delivery of its tasty pizzas via an online ordering system; if the website is developed without paying attention to responsive web design, or if it performs poorly because of extensive load times, the entire business will end up suffering. If the pizza is known to be great, it is important to develop a site that provides a pleasant experience from the moment the visitor arrives to the moment an order is completed; in fact, why stop there? What about offering visitors some interesting content while they wait for the pizza to arrive?
In the end, modern web design consists of developing a good experience, paying attention to all the little details, anticipating the needs of visitors, and creating websites that feel natural to users. Here at Fox Web Creations, we will pay attention to all of these details with you to create the best possible website for your business. Please contact us today for more information.