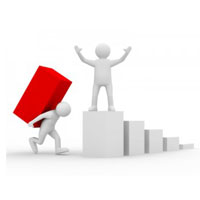 An ideally marketed web presence is mission-critical for any business, but many small – but growing – companies do not have the resources to hire an in-house search engine optimization (SEO) team to meet those needs. If your business is showing consistent growth, you need the help of a trusted Kansas City web design company that understands the current trends in SEO.
Here is the dilemma: do you hire a company whose focus is on building links or one that focuses more heavily on content marketing? If either of these options are unfamiliar or if you don't know what the difference is between the two, here are a few things to consider.
Link Building
This is a search engine marketing strategy that uses a time-tested and effective approach to improve search engine rankings. In the past, the easiest way to build back-links was to simply ask for them, either from other site owners or through link exchange or pay-per-click services. Some of these methods are still effective but the advent of social media has opened up many new avenues as well. The right strategies in this arena can dramatically improve search engine rankings and a professional SEO team can make a tremendous difference in the effectiveness of your link building strategy.
Content Marketing
Companies that are active in Internet marketing understand that the face of advertising and the delivery of ad content is changing. People DVR their favorite shows and even stream them online for the purpose of being able to skip past TV ads. They are becoming less likely to respond to print media advertising by the day and have even discovered ways to block a large percentage of the ads they would otherwise see online. This is where content marketing comes in. The purpose of this type of marketing is to connect with a potential customer by presenting content that is worded and presented in a way that will capture and hold his or her attention. It uses information to empower the consumer. Make the customer more intelligent when it comes to the concept of the product and they will begin to develop a sense of need for it.
Which Direction Should Your Company Take?
Ask yourself what you hope to accomplish through SEO: are you looking for a fast track to good rankings or are you looking at the larger picture – one that involves a slow climb to the top with a more stable and loyal customer base? If you want fast results, find a company that has a proven track record with building links, but understand that the SEO game is changing rapidly. Your SEO efforts need to be balanced between the right amount of classic link building and a clear strategy for marketing through meaningful content. While the former can still be effective, the latter is where the future of SEO lies. Fox Web Creations is pleased to provide web design that Kansas city businesses can trust and is a leader in SEO strategies for any size business.