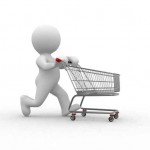 Companies in Kansas City doing online business require efficient and functional websites for successful business transactions. Creative eCommerce website design in Kansas City, though costlier than traditional website design, can create vast improvements in sales.
E-commerce features would enable the customer to get the product he wants online without having to speak to any of the business staff. In addition to the correct functioning and a professional look, an e-commerce website is expected to enable the error-free and confusion-free use of online tools, a shopping cart, and navigation.
A competent website design company would ensure that the design they create is of such a nature that those who visit the e-shop are not tempted to leave it. The necessities of an e-commerce website design include a user interface that?s web-based, a Secure Sockets Layer (SSL) component, a merchant account, a payment gateway, and a shopping cart. In addition to the right kind of design, an e-commerce website should have natural SEO and a name that?s brandable.
Provision of a shopping cart is a very important e-commerce website design service provided by website design companies in Kansas City. This e-commerce website feature is advantageous to both the store owner and the customer. Those who own e-commerce stores can develop, run and sustain them with the least bit of effort while the customers can conveniently check out and select products.