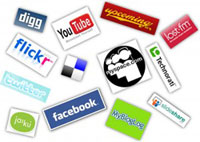 Managing a blog, website or any type of business online requires more than just the knowledge of the products or services you have to offer. Ensuring you are properly implementing social media marketing is a key factor in finding success online. If you are currently living in Kansas and you are interested in taking your website or business to the next level, doing so is possible by working with a Kansas City web design company, like Fox Web Creations, that specializes in Internet marketing and social media.
What is Social Media Marketing?
Using social media to market includes creating pages that are relevant to your website or the brand you represent using social networking communities such as Facebook, Twitter, Pinterest and even Instagram. When you use social media to market, you can instantly promote news and updates to all of the groups who follow you and are virtual fans. Marketing with social media is extremely important to gain maximum exposure regardless of the type of content, products or services you want to share.
Marketing with social media is often free of charge, saving on investing into traditional advertising and marketing campaigns. When you use social media, you can easily communicate with a much greater audience than when you are only using local advertising and marketing campaigns. Updating on a consistent basis is highly recommended to gain the most interested followers for your brand.
Why is Social Media Important?
Marketing with social media is a way to break free from the traditional methods of launching marketing and advertising campaigns, especially locally. When you promote your website or business online with social media, it is much easier to connect with a greater audience to increase your chances of generating visitors, page views and even sales on your site. Using social media is a way to keep your brand as relevant as possible with your online audience. The more you use social media to keep your online followers updated, the easier it is to attract attention to your site and your brand altogether.
Who Can Benefit From Social Media?
Using social media on a consistent basis is ideal whether you are planning to launch a personal blog or if you have a start-up website you want to promote and build an online presence with, helping to generate buzz and interest in what you have to sell and offer. Working with a professional web design firm and Internet marketing company allows you to ensure you are reaching the proper audience or demographic that can instantly gain new followers and online fans, potentially increasing revenue you are capable of generating.
Utilizing social media is essential when you want to boost the overall popularity and visibility of your website or any online businesses you want to grow. You have the ability to update all of your social media pages at once with the proper tools, giving you the most exposure popular on multiple platforms without having to manually all pages individually. Using social media can help you to build a positive reputation while gaining credibility online as a brand or business. You can also instantly communicate with fans and those who are interested in your brand when you put your social media power to use.
For more information on how to boost your website and online presence, Fox Web Creations has the ability to provide all of the web design and social marketing services you need. Working with a professional website design firm that specializes in Internet marketing is often capable of providing SEO, or search engine optimization for any site, regardless of the industry you are representing and working in.