2017, was quite an exciting year, especially within the sphere of e-commerce web designs. There are so many new trends that have emerged taking the internet world by storm. The new innovative designs from the available eCommerce website design Kansas City trends have resulted in a wave of increased website traffic and more conversion rates. They have clearly paid off well, however, the question that lingers is whether they will be popular in the coming years.
Let's look at the favorite trends of 2017 that will still remain relevant in 2018:
Mobile Optimization
Over 50% of world's population is on their mobile phone all the time. Today people spend much more time on their phones than on any other device, and why shouldn't they? Mobiles are portable, practical, and can do basically anything. As a result, web developers have to upgrade websites to be more mobile friendly constantly. Increased mobile optimization improves the conversion rates almost drastically. Elements such as screen space, navigation bars, page load time, and display on mobile phones can't be ignored, even in 2018.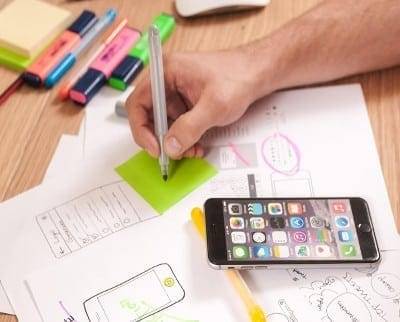 Additional Shop Features
Customers don't like to feel limited by options available on a site. This is the reason why web designers pay extra attention to adding more features to the e-commerce sites. An unlimited number of products and categories is part of the features that can be integrated to enhance a more luxurious shopping experience. Different features make the customer's overall experience a whole lot better which assures return buyers on your site.
Personalization of the Customer's Experience
Customers are always right, especially when it comes to e-commerce where customer-orientation is used to enhance the shopper's journey as they make decisions. Customers are like detectives looking for clues and hints about a product before completing the purchase. It is essential to ensure the website is well curated and personalized with the right chatbots, customized questionnaires, and guides. A great example is Victoria Secret's guide on sports bras where the site is tailored to assist customers with the purchase journey.
Video content Integration
They say a picture is worth a thousand words, then imagine how valuable videos would be. Videos are highly entertaining and are a unique and outstanding means of conveying information that would be difficult to explain using text or images. Several top sites such as ASOS use video content to show mini-runways of how clothing looks, to give guides and instructions on how to use their product.
Reviews and Testimonials
Close to 88% of all customers use online reviews to provide recommendations for products. Customers are more likely to buy goods or services from a site that has reviews and testimonials from previous buyers. The internet is full of scammers who are more than ready to make a quick buck of unwary customers. The internet is also full of fake and paid reviews that mislead the end buyer. Considering reviews and testimonials on your site is always a good idea, your conversion rates will also skyrocket in the long-run. Choose the right eCommerce website design Kansas City that will incorporate all the above-listed trends.