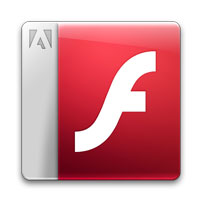 Flash. Multimedia. Video. Audio. Are these things that would benefit your website?
Flash is an immediate way to grab the attention of your viewer. It is an animation that enables you to stream video and audio or create multimedia presentations, scenarios, or advertisement.
Because a viewer may not want to read through a lot of content, Fox Web Creations can add an interactive solution to immediately grab the attention of the viewer. Sales increase when you can show the customer how your product is better than the competition.
Current websites have improved immensely regarding technological and artistic aspects. Websites are no longer limited to text and pictures; the cutting edge websites of today provide an effective mix of audio and visual information. They may also pull in resources from other programs such as spreadsheets, charts, and Power Point presentations.
Power Point presentations have been used as the main method of presentation for many offices for the past several years. Power Point presentations are easy to create, are portable, and the program is affordable. Why not take your Power Point presentation to the next level by turning it into a web presentation?
How do you turn your Power Point presentation into a web presentation? The answer to this question may be different than what you have done in the past. In the past you may have provided a link on your website to your Power Point presentation. Users clicked on the link and watched the basic Power Point presentation. This method provided the information to the customer, but did not provide an "experience".
You can convert your Power Point presentation to a Flash presentation in order to create an "experience" for your customer. "Flash" technology is accepted by 98% of the world which makes it a viable technological resource. Flash turns your basic Power Point presentation into a multimedia experience that you can share on the Internet.
Use the power of Flash to add excitement to your web presentations. Flash enables you to reach your customers by stimulating their senses and tugging at their emotions. Show your passion and enthusiasm for your product through a multimedia presentation. Your customers may just jump on your bandwagon when they witness your dedication to the product, service, and customer satisfaction.