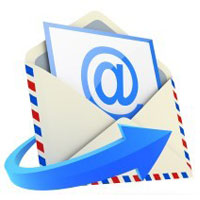 Creating a mailing list from people who visit your site is considered one of the best ways to get visitors to return to your site and make a purchase. Visitors can opt in to receive a newsletter containing information on company promotions and sales, reminding them that you value their business.
Fox Web Creations understands the importance of these vital mailing lists. We can help you craft emails that will grab attention and bring potential customers back to your site to make a purchase.
One of the newest marketing devices in e-commerce is an RSS Feed, and we have the technology and expertise to set up this feature. We can even help determine which day of the week will be most likely to bring you success in converting visitors into buyers!
Email marketing is critical in generating the maximum profits from your website visitors.
The announcement of product launches is an important phase in your business marketing plan. In today's market, advertising your product first is vitally significant to your sales and profit achievement.
You need to email your subscribers often enough to keep in contact with them while at the same time notifying them about your new products and developments. However, you must be careful not to bother them by sending too many notifications. Although there are no magic answers to how often you should send newsletters, there are various factors that Fox Web Creations can use to determine email frequency.
Fox Web Creations is a leader in guiding companies through their e-marketing process. Let us help you maximize your profits today!